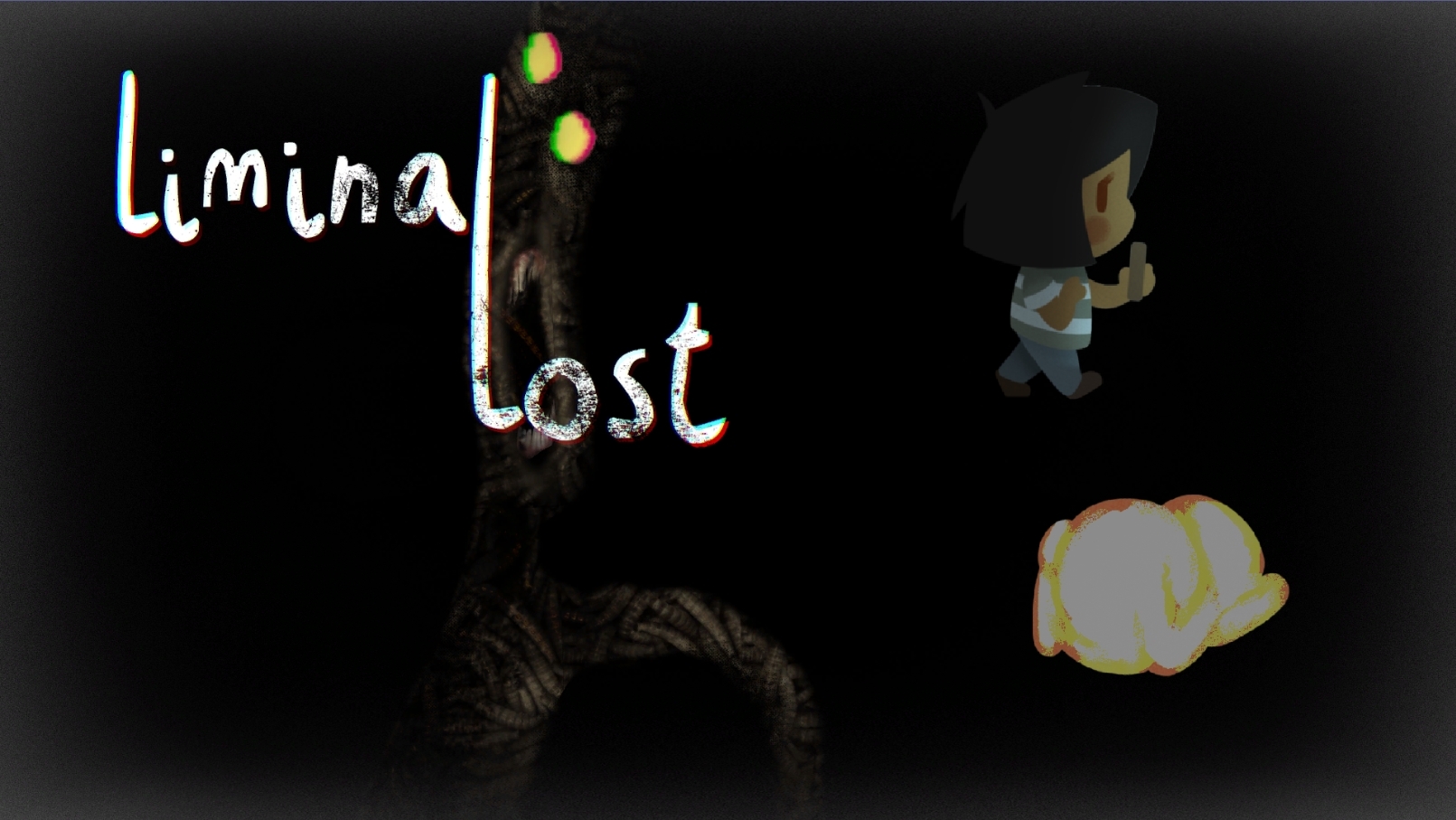 Liminal Lost
A game by :
Cindy ASSELIN DE BEAUVILLE - Game Design, Programming
Nathan BARDIN (Naowin)- Game Design, Programming
Ilan OUAMROUCHE (Riûkko) - Game Design, Programming
Julie MIZREH - Art
Melaine KENNER - Art

Kevin DEDOU - Sound Design


Attention : Ce jeu est déconseillé aux personnes sensibles du fait de son contenu à caractère angoissant et des sujets abordés de l'ordre du syndrome de stress post-traumatique

Warning : The following game is not advised for sensitive people because of his anxiety inducing content and thematics around PTSD
FR :

Histoire :
Un jeu créé dans le cadre de la Global Game Jam 2021 avec pour thème "Lost and Found".
Vous incarnez une jeune héroïne livrée à elle même enfermée dans un monde psychédélique visant à la faire affronter les durs souvenirs qu'elle réprime. Vous devrez retrouver les 3 souvenirs traumatiques en vous guidant grâce à votre lampe torche et votre sonar à travers cet enchaînement de salle labyrinthique.
Mais attention : vous n'êtes PAS seule, une entité fantomatique cherche à vous nuire...

Gameplay :
- Utilisez Z Q S D ou les touches directionnelles pour vous déplacer.
- Clic gauche pour déployer votre sonar : celui ci vous informe de la présence des objets que vous recherchez, mais également de celle de l'entité qui rôde.... Il se mettra à sonner si l'entité se trouve dans la même salle que vous.
- Clic droit pour allumer ou éteindre votre lampe. Veillez à bien l'utiliser : lorsque votre lampe est allumée, vous verrez votre chemin, mais vous ne pourrez plus voir le monstre et celui-ci pourra vous traquer sans relâche. En présence de l'entité, éteignez votre lumière et tentez de l'éviter car celle-ci sera désorientée
- Appuyez sur la barre espace près des portes pour les traverser et les collectibles pour les ramasser
- Appuyez sur Maj Gauche pour vous déplacer lentement et réduire le bruit de vos pas : cela vous sera utile en présence de l'entité car même dans le noir, elle peut vous repérer au bruit...
Votre but :
Réunissez les 3 souvenirs traumatiques et ramenez les à la fontaine en échappant à l'entité qui vous menace . Votre sonar vous signale lorsque vous êtes en danger : vous pouvez détecter la présence du monstre en l'utilisant, mais il vous traquera et vous ne le verrez pas de vos propres yeux. Il vous faudra éteindre pour révéler ses yeux et le désorienter, vous permettant de l'esquiver en attendant qu'il ne vous laisse tranquille. (Les portes se verrouillent lorsque l'entité est proche, vous devrez vous cacher en attendant que celle-ci ne s'en aille)
ENG :
Story :
A game made during the Global Game Jam 2021 based on the theme "Lost & Found"
You play as a young girl struggling all by herself, trapped in a disturbing world that is making her face memories buried deep within her mind.
You will need to find all 3 traumatic memories armed with only a flashlight and a sonar, through maze-like sets of rooms.
Beware. You are NOT alone. A ghostly entity lurks in the dark, waiting for its chance to destroy you...
Gameplay :
- Use the Z Q S D keys or the Arrow keys to move around.
- Left click to turn your sonar on and off. It keeps you informed of the presence of the repressed traumas you need to find, but also of the malevolent being haunting the place. The sonar will start beeping if the entity is in the same room as you.
- Right click to turn your flashlight on and off. Use it wisely: when your flashlight is on, you can see where you are going, but you won't be able to see the thing that stalks you anymore. When the entity is near, turn it off, avoid it and make as little noise as you can as so it won't be able to find you.
- Press the Spacebar near doors to open them and near repressed traumas to set them free.
- Hold the Left Shift key while moving to walk slowly and minimize the sound of your footsteps. It will make it harder for the entity to find you when it's completely dark.
How to win :

Gather the 3 traumatic memories and bring them back to the fountain without getting caught by the entity. Your sonar will warn you if you're in danger : you can spot the entity by using it, but it will stalk you and you won't be able to see it. You'll have to turn off your flashlight to reveal its eyes and disorient it, allowing you to avoid it before it leave you alone. (Doors are locked when the entity is near, you have to hide until it leaves)